Department of Carbon Nanostructures
Department head Dr. V. Mordkovich
The department was organized and headed since 2009 by Vladimir Z. Mordkovich, Ph.D., Dr.Sci, a winner of the 2002 Sasaki prize for outstanding achievements in the research of the advanced materials for break-through technologies.
R&D directions
R&D in the chemical methods for nanostructures' fabrication and nanomaterial applications. In particular, the areas in focus include carbon nanotubes and nanothreads, functional and construction composites based on carbon-polymer, ceramic-carbon or metal-carbon components.
Methods
The department of new chemical technologies and nanomaterials is carrying out both experimental works and mathematical modeling of processes. An extensive set of experimental installations is currently under construction, in particular:
nanostructure fabrication by different chemical methods, in particular CVD;
investigation of catalytic activity of nanostructures in technologically important processes;
characterization of thermal properties, surface and adsorption properties of the synthesized nanostructures;
fabrication of composite materials on the basis of the synthesized nanostructures.
MULTILAYER STRUCTURE GROWTH MECHANISMS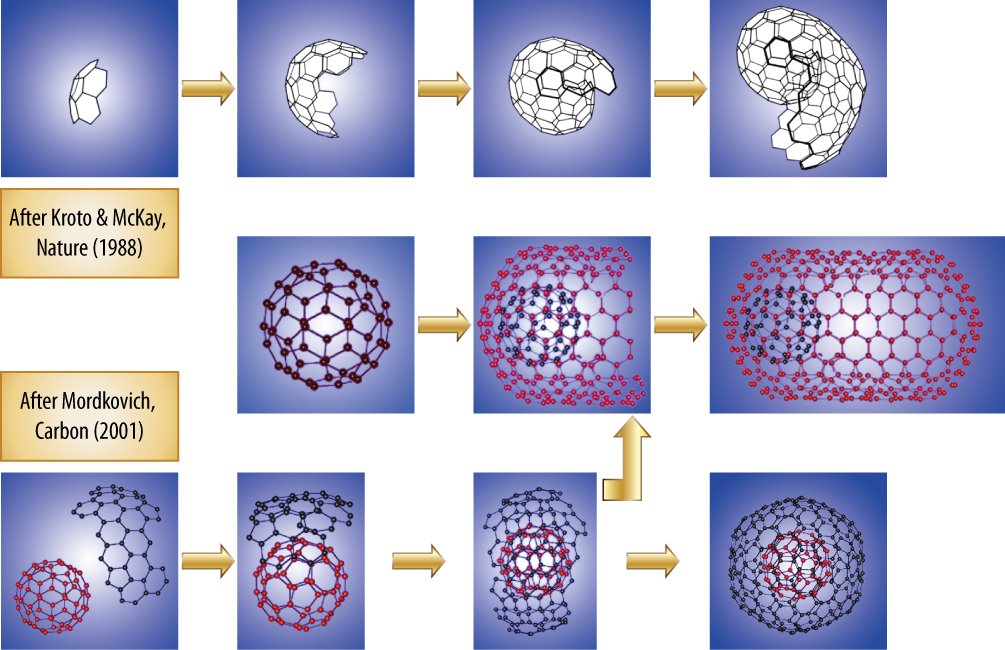 DEVIATION FROM A NORMAL MECHANISM -
THE SHORTENED STRUCTURES INSTEAD OF THE NANOTUBES

Growth model
MODERN POSSIBILITIES OF HETEROGENEOUS CATALYTIC PROCESS MODELING
AND MAIN DIRECTIONS OF MODERN DEVELOPMENT
Quasihomogeneous approach to porous environment modeling

Simplicity of description;
Low calculating expenditure;
Restricted use in the case of low ratio of characteristic size of the apparatus to the size of catalyst granule;
Impossibility of local measurement of needed parameters description;
Some effects are impossible to describe within the frames of the approach.

Direct modeling of porous environment

Complicated description based on CPD of calculating package;
Considerable calculation inputs;
The cases of low ratio of characteristic size of the apparatus to the catalyst granule size and porous environment with structured granule packing are described well;
Precise description of local changes of the needed parameters.
DEVELOPMENT OF FISHER-TROPSH SYNTHESIS TECHNOLOGY

Increasing of reactor power-to-weight ratio – the way to improve the economics of the process