Tisncm-Siemens
"Functional and Constructional Nanomaterials"
TISNCM-SIEMENS Joint Laboratory
Laboratory Head, Vyatcheslav Prokhorov
Joint scientific research on constructional materials has been conducted since 2007.
An agreement between TISNCM and Siemens Aktiengesellschaft (Siemens AG) was signed on May 30, 2008, establishing the "Functional and Constructional Materials" TISNCM–SIEMENS Joint Laboratory.
The aim of the TISNCM–SIEMENS laboratory is to facilitate the collaborative scientific research and to develop a relationship between the organizations in research fields of mutual interest, including:
cooperation in the field of nanocarbon and modified nanocarbon materials, and other fields according to the mutual agreement;
• training and support of the engineers and scientists in the field of nanoconstructional materials.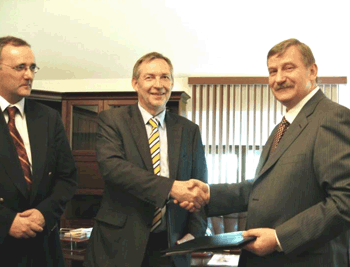 Signing the agreement.